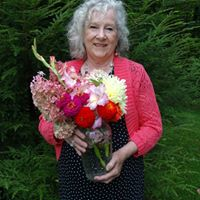 Lynda McKinney Lambert
Poetry, Biographies & Memoirs, General Nonfiction, Christian Nonfiction, Religion & Spirituality
Profession

Author, Artist, Educator
Walking by Inner Vision: Stories & Poems is a collection of nonfiction thoughtful personal stories and poems. The book is a one-year journey from January through December.

Author Lynda McKinney Lambert has FOUR published books on Amazon.

Lynda's first chapbook, first snow, is available on Finishing Line Press website. It was published in 2020.

https://www.finishinglinepress.com/product/first-snow-by-lynda-mckinney-lambert/


Lynda is a retired professor of fine arts and humanities; lectured in art history; taught studio art courses; taught English literature courses at Geneva College, Beaver Falls, PA.
Lynda McKinney Lambert Books
I am a writer of books in retrospect. I talk in order to understand; I teach in order to learn.
Robert Frost